---
Sicily is a land where nature and landscape's value has well influenced culture and inhabitants' lifestyle in the past and still in the present. There are some places where extraordinary beauty has given idea to New urban projects and new concept for job, archaeology and art. Here is Val di Noto in the SouthEast of Sicily, listed as UNESCO World Heritage. In the countryside of this land rich of charm, symbol of Sicily baroque style, you can find many masseria, traditional house built between XVI and XVIII century A.D. Just next to Vendicary Natural Reserve, a marvellous  protected area between Noto and Marzameni, set on the last Hills of Ibleo plateau, there is La Corte del Sole, a hotel in a traditional masseria well renovated by Carlo and Gianfranco Pintaldi brothers.
The 36 rooms of the estate keep the ancient atmosphere of masseria with a right compromise with comfort and details care. Pool and relax Areas are put in a marvellous frame where you can gaze around the hills, to the horizon and the sea. "Le Muse" Restaurant is the jewel of masseria thanks to its gourmet proposals linked to Sicily tradition.
La Corte del Sole Hotel is a place where time seems to have stopped, with a family atmosphere, a place where there is the idea to give value to history and tradition of this land full of unique charm.
The hospitality model of Corte del Sole Hotel, a place where guests receive nourishment for soul and senses, is based on keeping the roots with the territory and taking care of Sicilian cultural identity.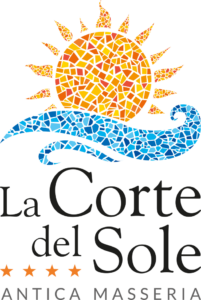 La Corte del Sole Hotel was born from the restoration of an ancient Sicilian Masseria,  property of an aristocratic family from Noto since the XIX century. It is set in a 20 hectares property not so far from the Vendicari Natural Reserve. The Masseria, with its small farming community, was once an estate, a world where farmers worked, got tired, celebrate events related to the harvests, fell in love and raised their children.
Until the '60s the farm was inhabited and produttive. The main productions were olive oil and wine  side by side to almonds, Citrus fruits and the breeding of cows producing milk and cheese. Then, as in other parts of the South of Italy, the poor agricultural economy has moved many people from Sicily to the North looking for a better life and so all these marvellous places of Borboni period have been abandoned.
The owners of this location, Carlo and Gianfranco Pintaldi brothers, of Sicilian origins, after a long period of hard work in the Ambrosiana Viaggi Travel Agency in Milan, in 2000 head decide to invest in their own land giving birth to an enthusiastic but not so easy project of renovation, which ended in 2005, blending perfectly tradition and expertise. They have personally followed the restoration project suggested by the architects, choosing traditional materials, respecting the colors and the endless details that make up the soul of a place.
Day after day their dream has become true. The result is an architectural complex developing a round central body, an evocative courtyard made of white stone, lit by the  warm light of eastern Sicily. Some details, like the traditional well, the lava stones tables with some decorations, the long seat full of cushions and the Arabic light make the place so unique and rich of ancient memories. During the hot summer nights the courtyard becomes the perfect location for themed parties, food and wine events or just for enjoying moments; all around there are some other places, like swimming pool, restaurant, bar and relax areas, and 36 rooms with the name of some Sicilian places, as a tribute to the beauty of this Island, with simple and different furniture.
Nowadays the 20 hectares estate is used for olive trees, almond, Citrus fruits cultivation and old seeds. There is an organic vegetable garden where they can find season vegetables for Restaurant daily use in order to keep alive the identity of the place, its history and its tradition. The Old Mill, once used for pressing olives and grapes, is now the place for breakfast in the morning and aperitif or drink at night.
Magic atmosphere during summer dining on the terraces of the Restaurant overlooking Vendicari Oasis, with a mix of colours like green of the countryside, blue of sea and sky, which becomes violet and turquoise at the sunset.
"We believe in Sicily and in young people. This land has some unique tastes and powers and we, coming from this Island, well know it. La Corte del Sole Hotel and Le Muse Restaurant represent a hospitality idea where Mediterranean Sea is the focus point of the holiday. We are part of this Mediterranean soul enveloping visitor with its smells and emotions". – Carlo and Gianfranco Pintaldi.
Translated by Floriana Maci
Contacts
La Corte del Sole
C.da Bucachemi, Eloro – 96017 Noto (SR)
Tel: +39 0931 820210
Email
Sito web
Facebook