Giuliana D'Antuono, Lawyer and brilliant Entrepreneur, has been our most valuable adviser, our most ardent supporter, an inexhaustible source of energy, during these years of Tesori d'Italia restructuring. She is one of the clearest examples of that Italy which reflecting itself makes everything potentially solvable, making human relations her reason for living. A true point of reference, not only for the qualities of the person and the professional abilities, but for the light and the enthusiasm that emanates every day and make the world a better place. It is a great honour for me, a pleasure for us all of Tesori d'Italia, to have Giuliana as guide in the field of italian and foreign institutional relations, the result of a life journey that today makes her one of the most versatile, interesting and prepare characters that the Italian business world knows.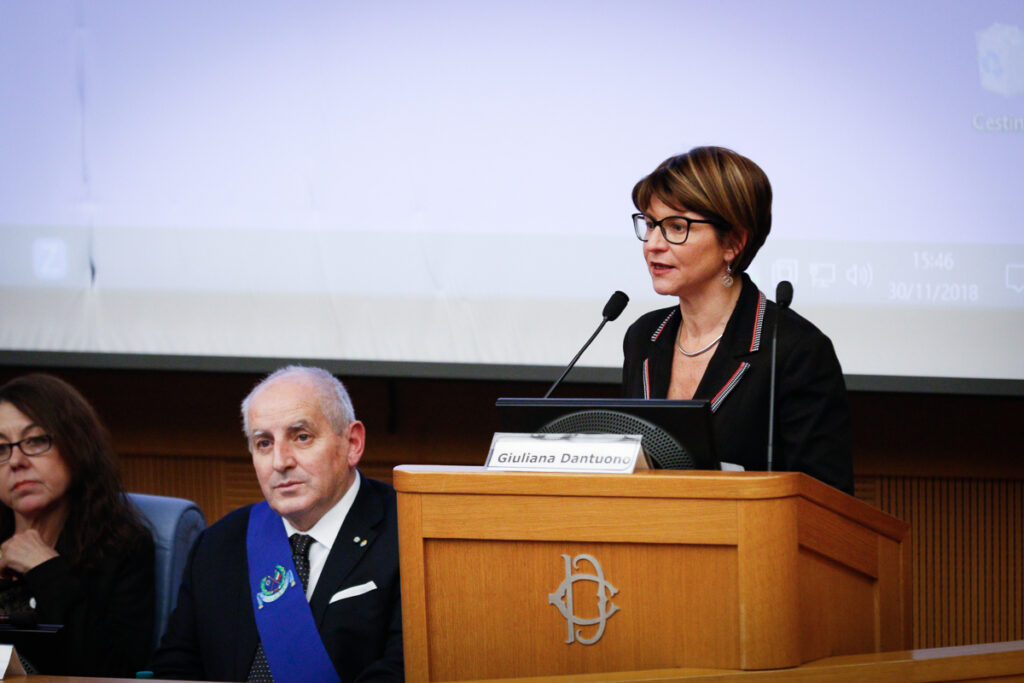 Who is Giuliana D'Antuono
Lawyer and Entrepreneur, since 2010 she has been involved in the implementation of internationalization and international business development projects.
She is a founding member and/or collaborates with various national and international, profit and non-profit organizations, which allow her to combine private interest with collective well-being, to promote individual and social responsibility, also for business, and to specialize in diplomacy and international social, cultural and economic cooperation. Competence, passion, reciprocity and ethics are the founding values ​​of Giuliana who has made her experiences and relationships to guarantee competitive and dynamic development programs capable of nurturing sustainable human and economic growth. Graduated in law in 2000 from the Roma Tre University, with in-depth study of the issues of international law at the Radboud Universiteit Nijmegen (Netherlands), she obtained the title of Lawyer, in addition to the Notarial internship. She specializes in the law of users and consumers, operating mostly in the sectors of financial and banking services, press and copyright, as well as food security.
From 1995 to 2012, she is a partner of Dimitel srl, a family company specialized in installation and maintenance of elevators, which she co-manages from 2005 onwards due to a sudden illness of the Father, great Master of life and profession for Giuliana.
Founder, in 2007, and General Secretary until 2017 of the Physeon Association, active in the development of social responsibility projects and competitive, ethical and solidarity professionalism. Within this context, since 2010 she is a permanent member of the Promoting and Institutional Relations Committee of the High Quality Italy project, created to facilitate the process of valorisation and internationalization of authentic Italian high quality in various industrial sectors (Food & Beverage, Fashion & Lifestyle, Tourism, etc.).
She develops a good capacity for drafting and negotiating processes and contracts in the record industry and television sector, thanks to relational and professional relationships established since 1990 with the world of Entertainment, in particular music. Since 2014, she is a partner member and participates in the strategic direction of some projects of Orange Media srl, a television and film production company that produces entertainment formats, TV series and produces films also in international co-production.

In 2014, she established and still manages HQI srl (High Quality Italy), an Italian company specialized in consulting for internationalization and business development, which operates in various foreign markets thanks to a consolidated experience over time and a multicultural and interdisciplinary network, national and international, public and private.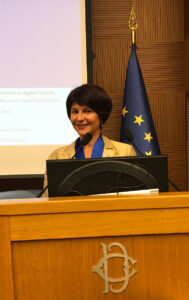 In 2017, she founded and she is still a board of directors' member of the Italy China Link, Association for Cultural, Social, Educational and Economic Cooperation between Italian and Chinese Excellences, directly linked to the CPAFFC (Chinese People's Association for Friendship with Foreign Countries), a prestigious organism of Foreign Affairs of the Chinese Government, and to the global project Belt & Road Local Cooperation (so-called "via della seta"). In 2019, she is been appointed National Councilor of the European Academy for Economic and Cultural Relations (ENVA Department – National Agency for the Valorisation of Trade Industry and Crafts).
"I am excited and honoured to represent the new vision of Tesori d'Italia and to prosper a great Project …of life, which perfectly demonstrates the winning combination between profit and non-profit territorial, professional skills, attitudes and passion that are mixed in an explosive productive combination of human and economic Wellness!" – Giuliana D'Antuono
Translated by Céline Alcala