The pandemic scenario of recent times has given rise to numerous media dimensions conducted by international research experts.
An Italian figure of considerable importance for seriousness, great professionalism and attitude to comparison is certainly that of Francesco Broccolo, associate professor of microbiology and clinical virology at the Bicocca University of Milan and director in charge of the Clinical Analysis laboratory in Cerba. A voice always attentive to consistency and the right disclosure line, it was characterized by the ease of communication with the public.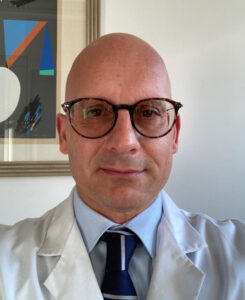 I meet him during a very tight break moment, quite difficult considering the immense work behind the tireless machine in such a large laboratory.
The blue striped tie can be seen on the freshly opened white coat.
The bedroom is furnished with the essentials and two beautiful paintings on the walls give those who enter a feeling of tranquility. The distances do not allow you to shake hands (the much appreciated video call), but for a moment, between a change of mask and another, the smile with which he welcomes this interview is an expression of kindness and cordiality.
The interview
Professor, how do you think medical-scientific communication should be set up today in order to create a unique, clear and reliable media line? And how, on this level, do you think academic operations are positioning themselves?
To be clear, communication must always be based on evidence of the facts. Very often we are led to give answers without these having any real connection with the proven truthfulness. Unfortunately, this generates a difference of opinion together with a marked lack of objectivity. We could undoubtedly give the example of the uncontrolled way in which various proclamations relating to the imminent release of vaccines have come out. Incorrect from my point of view. The right procedure should be the one according to which scientific data are highlighted and then every insider can freely comment (type of vaccine, dosages, techniques used). Instead, there were only big announcements before the evidence.
As for the academic presence in the line of media communication, we know that many scientists are academics and we often find them in high-impact environments, such as television, where communication must follow rules of clarity and simplicity of exposure to get to the spectators. However, this fits in with the mindset of those who only work at the university. I think that more space should be given to those who work to train young researchers, from there a stronger dissemination flow should come. To make sure that the message arrives clear, perhaps scientific communication should be developed on multiple reception channels aimed at specific targets. However, simplicity always rewards. As Einstein said "If you can't explain it in a simple way, you do not understand it enough". What probably the academic world should start doing is the solid creation of real networks for scientific dissemination.
Jean Rostand once compared scientific research to the only possible form of poetry paid regularly by the state. Is it still so?
I do not think so. Indeed, unfortunately it is the exact opposite. Of course, scientific research still remains a poem in all respects, above all because those who follow it do so out of pure passion. However, since there is no large government funding, but only private economic opportunities, we find ourselves thinking about the serious loss that every year we must see through the tenacious job of people who work for the sake of truth, development and discovery even knowing that they are not really supported. Such a pity. I believe that the future of a country is measured not only by its GDP but also and above all by the strength of research.
The autonomy of science often also has to deal with ethics and the freedom of rights.
Of course, scientific autonomy must necessarily confront itself. We have seen it and we are seeing it with vaccines. What must always be placed on the scale is the dualism of "risk plus benefit". Science can make mistakes. And even when it seems to come close to the truth, it is not the truth. The variables in this discourse are so infinite that the highest effort that tends to one and only certainty we know that it can never replace it.
The teaching that "this time" will leave to the national health system.
(Answering this question the professor loosens the knot of his tie for a moment and seems to sigh behind the mask).
So, the teaching… This pandemic is already making us understand, also projecting us into the near future, that in addition to the reaction dynamics (buffer effect) there are still a series of conditions that in other areas, such as banking for example, are defined as adverse, and which in this case have not been budgeted, if we may say so. The system has become adverse to the system itself. We now know that the pandemic plan had a last update dated 2006. It makes us think. It is not possible to live in sanitary conditions at the minimum tolerability. The political organization on public health must absolutely be strengthened, as well as the dialogue that exists with the unique dimension of each region. We need to see greater coordination between local and governmental entities. Furthermore, the total absence of research was the basis of that slowdown that did not allow us to react vigorously to the arrival of the pandemic. We weren't prepared. I believe that the best lesson that will remain in the minds of those who govern will be to finally be able to create a new requalification and above all financing plan aimed at our Healthcare.
Someone knocks on the door. A young biologist enters with lots of packages and papers to sign. The professor signals him to wait. "Are we done?", he asks politely. I answer yes, even if that is not what I think. There are so many questions that I would like to ask him but the number of sheets to be stamped that they have placed on his desk far exceeds them. I thank him for the time he has dedicated to me. Then, before closing the connection, I ask him one last question.
"A last question professor, and then I let you work".
"I listen to you", is his reply.
"With all the pressure of these months and the working hours that I understand are very important, how does a good virologist relax?".
He is smiling now behind the mask, and for a moment he stops signing the documents.
"I play the piano, together with my daughters. I spend time with my family".
Interview by Fabiana D'Urso
Translated by Céline Alcala