---
The first certified Treasure of 2020 is Toffini Academy in Naples, a Haute Cuisine School designed for all the lovers of high-level Italian cuisine, born in 2013 from the inspiration and ambition of Alberto Bertamino and Maurizio Giancarli.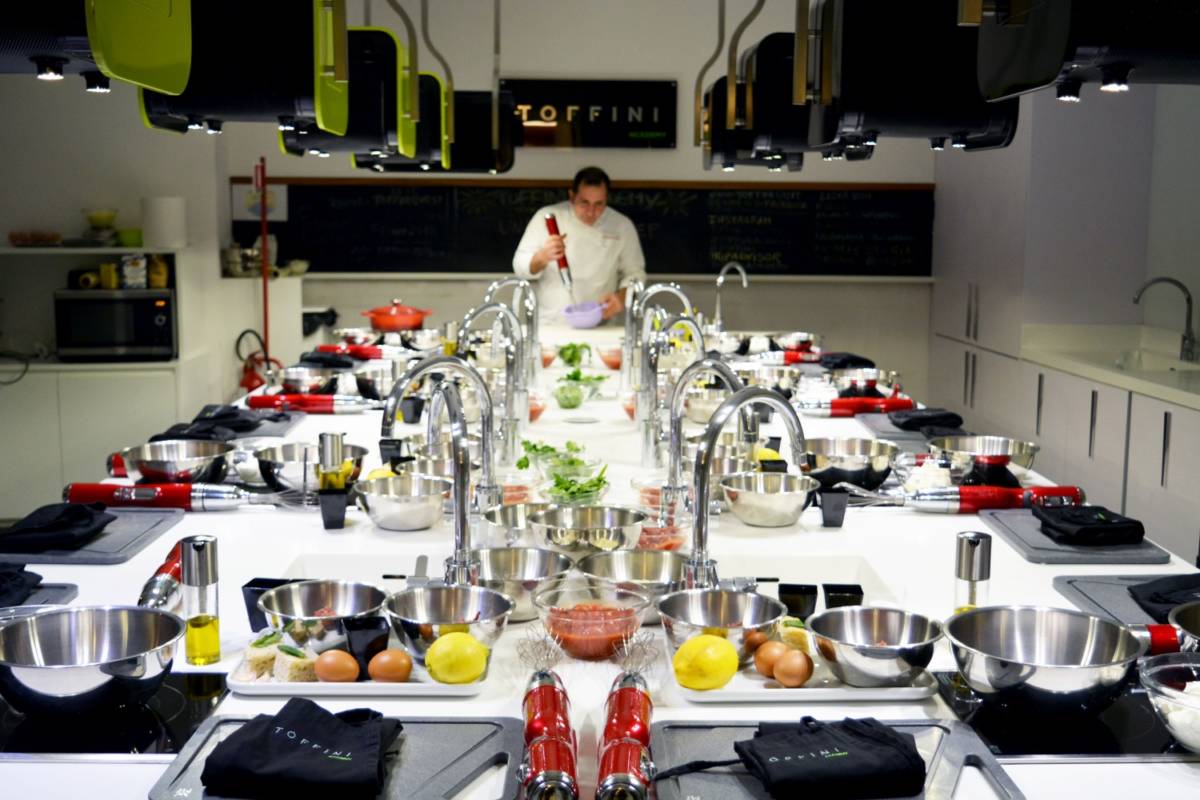 At the beginning of the Toffini Academy there is an original idea that is based on the possibility of exploiting the spaces and comforts of professional kitchens, experiencing all the functionality firsthand; what is learned by the Chefs, then, can easily be replicated in your own home using the traditional tools of a traditional kitchen.
The professional courses offered start from three different levels, to be chosen according to the starting skills. Each of them develops around learning the techniques of preparation, cooking and serving dishes: first courses, second courses, desserts and appetizers; risotto, red and white meats, fresh egg pasta, fish, pizza… Even the study on the combination of wines has its place in the academy, the culinary art in fact can not ignore the perfect combination of drinks to bring on the own table.
"Learning by doing" is the way of think in Toffini Academy, each student is given an individual workstation, which can also be used by two if the course requires it, such as the one designed for parents and children or the one dedicated to couples.
The Academy is dedicated both to those who wish to become expert professionals in the sector and to those who aspire to learn true culinary art out of pure passion: one of the objectives of Toffini Academy is to train specialized figures capable of interpreting culinary trends with great ability and competence in any environment, even the domestic one. The Chefs are professional instructors who are able to weave innovation and tradition, technique and passion to experience the uniqueness of Italian haute cuisine in their home.
Toffini Academy is a space designed to transform passion into art, where you can discover and experiment with classic and innovative techniques of preparation, cooking and serving, from now counted among the Treasures of Italy 2020.

Toffini was already a brand of tailored designer kitchens since 2005, with sales mainly concentrated abroad. When we decided to open a showroom in the company's home city, Naples, we wanted it to be different and we had the idea of ​​creating a design cooking school where people could experiment with the use of new technologies in the kitchen. It was 2013, people began to practice in their homes a kitchen that approached that of catering, with techniques, tricks and advanced knowledge brought to the general public by TV.
There were basically three reasons for our success.
First of all, the approach: we forced professional chefs to adapt their recipes to domestic equipment, so that they could be replicated in each person's homes, and we created a dedicated workstation for everyone to increase the level of learning and fun.
Second, the exchange goods: we do not sell cooking classes but self-esteem; we empower people to do a new and complex thing in an excellent way by guiding them step by step, always generating the same question in each of them: "Really, I did it ?".
Third, we started out in perfect trend, which is something that, in business, allows you make a few mistakes. People were already starting to want to cook food for themselves and their loved ones with their own hands, in response to the excessive industrialization that food had undergone in recent decades. What we added was the commitment to always propose interesting and above all stimulating topics for an increasingly demanding public.
In 2018 we also opened doors to foreigners following the tourist boom that the city of Naples was experiencing, positioning us as the first experience of homemade pizza on all the sector portals and on the best city guides, including the prestigious Lonely Planet.
In 2019 we launched the first Professional Haute Cuisine course in Southern Italy to enhance the great gastronomic heritage of our province, which for two years has been the most "starry" in Italy, having passed Milan and Rome, historic squares of the haute cuisine.
We have involved the best chefs and the best companies in our area, in fact each student will end his training course with 4 months of internship at a Michelin-starred restaurant, to start, also thanks to our Placement service, a professional career of the Italian Haute Cuisine.
Translated by Céline Alcala
Contacts
Toffini Academy Srl
Via G. Martucci, 35 E − 80121 Napoli
Tel: +39 081 665336
Email: academy@toffini.it
Website
Facebook