On the occasion of the Lazio TDI Tour to discover the excellences of Don Nino Gelateria e Pasticceria Artigianale, Brand Ambassador of Tesori d'Italia, we had the pleasure of talking with the Master Gelatiere Francesco Mastroianni, learning about his history full of successes and the bond with Don Nino.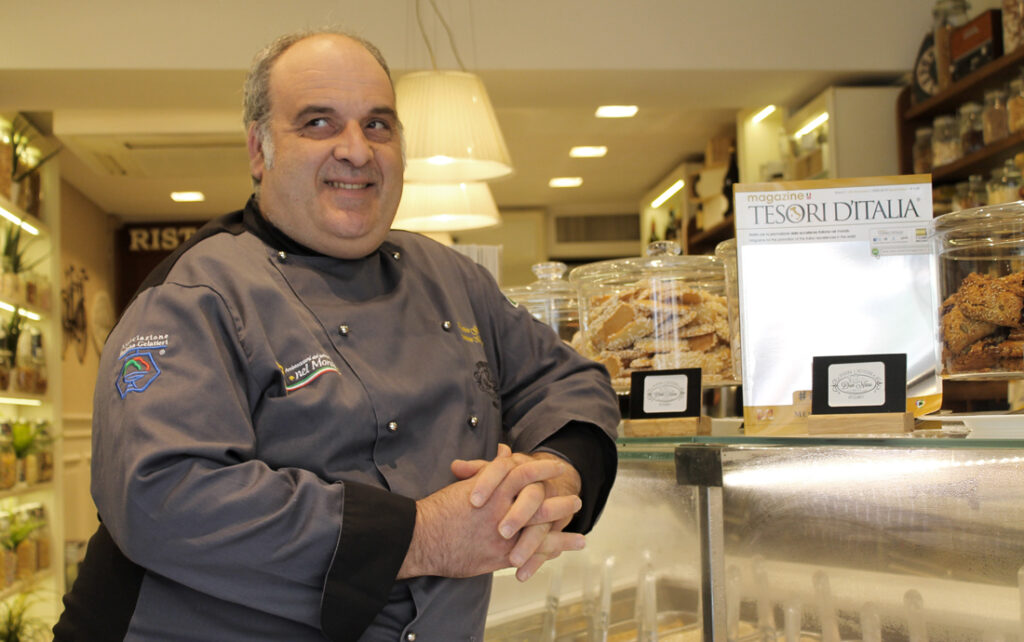 Calabrian of origin, Mastroianni started his business in 1989 continuing the family tradition born many years earlier. Cultivating with love a passion inherited from his grandfather and father, Francesco Mastroianni works with great dedication to realize the dream of becoming one of the most important Italian Gelato Masters. Numerous awards achieved over time confirm his professionalism and skill: five times Italian Gelato Champion, he obtained the appointment of Gelato Ambassador in the World thanks to countless national and international honors. The one of the Master ice cream maker and pastry chef is a talent that continues to win acclaim all over the world.
His recipes speak for themselves, where Mastroianni reveals all his class by interpreting the traditional art of ice cream with an inimitable personal touch: this is how the Master creates unique and original author's delights. Creations such as Fichi della Piana – First prize at SIGEP 2001 – or Cuor di Brontolo – winner of the World Icecream Championship – are just some examples of his ability to capture the essence of the best ingredients, taking inspiration from territoriality, to create authentic flavors that combine the consent of the public and critics.
From the meeting with Don Nino, which took place in 2013 on the occasion of his participation in the Gelato World Tour in Rome, Maestro Mastroianni, recognized as a "Treasure of Italy" for his talent and his precious work, is the creative soul of the Brand. A successful bond that has continued to be a source of important satisfaction ever since.
The interview
Maestro, yours is a story that arises from the family business. Was it natural for you to continue this tradition?
Yes, it was natural, I represent the third generation. From my grandfather, and then from my father, I inherited the passion for this activity, which is much more than a job for me: it is who I am. From a certain point of view it was easy to continue the family tradition, because at the base there has always been love, a story and I have decided to follow it up. My grandfather was called Francesco, like me, so it is a bond that continues even in the name.
From Calabria to the conquest of the world. How hard is the work behind your success?
Behind this success there is so much passion and humility and, overall, the need to learn. In life – and is not a cliché – you never stop learning. From my opinion, this is what success means: striving day after day to achieve your goals.
Among the five Gelatiere Masters in the world and Gelato Ambassador in the world. How to obtain these results? How do you get such an important title?
These results are achieved by being in close contact with your colleagues, because each one has something important to transmit to help you getting professional growth. There is always something to learn from others. Then, there are the schools, the races, the competitions, in many levels: being part of everything this world has to offer help to obtain great successes. To become a Gelato Ambassador in the world it takes many years of study, contests, merits, certificates, becoming well-known faces in the Ice-cream and pastry fields: all this can lead you obtaining valuables awards like this one.
Where do you find the inspiration to create authentic and original tastes?
I am mainly inspired by my travels. During my free time, I have the opportunity to dedicate myself to this aspect, which is fundamental for my work; in moments of reflections I find the greatest creative drive to give life to new tastes and new sweets. The love for my territory, Calabria, is certainly the principal source of inspiration as well as the city that hosts us today, Rome. This town is an open-air museum, colorful, taking a cue from it you really can invent everything! The taste that – we can say – gave a decisive impetus to my path is precisely linked to our Capital: the Cuor di Brontolo (Heart of Grump), a variegate pistachio thanks to which I won at the Gelato World Tour on the prestigious Pincio terrace.
What is the latest award you received?
In 2020 I participated in an important contest in Rimini, where all the Gelato Ambassadors in the world were present, and I was appointed Ambassador of the Year 2020, a title that I will carry with me until 2021. I won this award thanks to Zagrumé, a zabaglione ice-cream, with a Calabrian hazelnut crumble and a lemon, bergamot and mandarin variegate.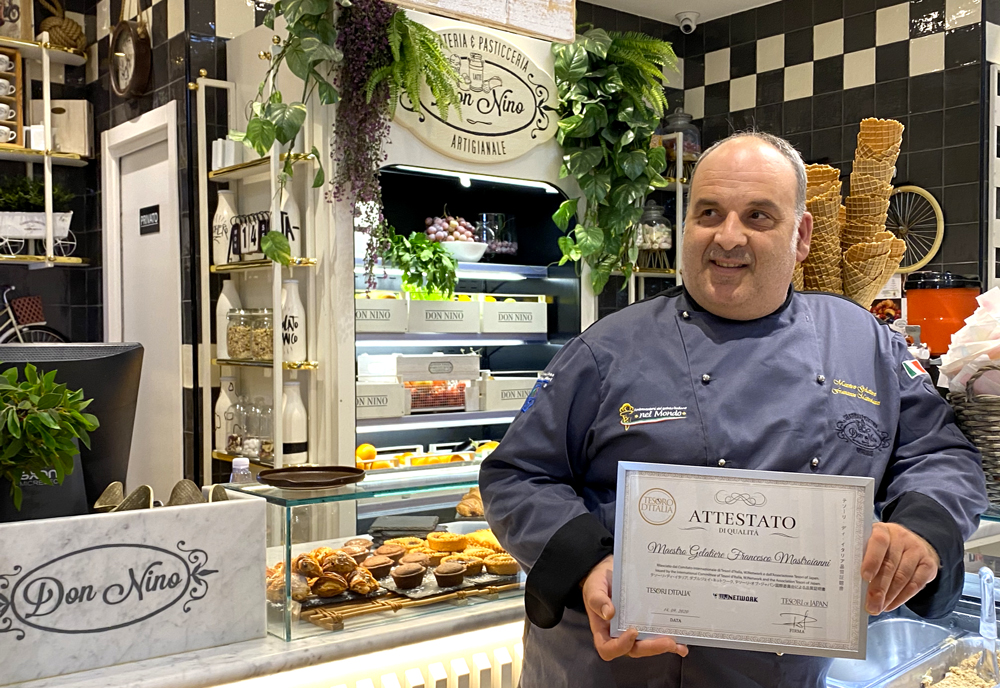 How did the meeting with Don Nino, from whose you become the creative soul, begin?
The meeting with Don Nino took place in 2013, on the occasion of my participation in the Gelato World Tour in Rome, on the Pincio terrace. There, I was approached by these greats entrepreneurs who wanted to develop this concept of gelato and pastry and, from here, this marriage was born, linking me to the world of Don Nino with great success.
Would you advise young people to choose this path?Absolutely yes. To young people who desire to undertake this job, I would recommend doing the apprenticeship. Not to chase "easy" success but to take one step at a time, always with passion and humility, that I consider the fundamental ingredients, whatever path you want to take, to grow professionally in the best possible way.
Interview by Claudia Mele
Translated by Céline Alcala